Harpgear.net Low Cost Amplification
Does my harp need amplifying?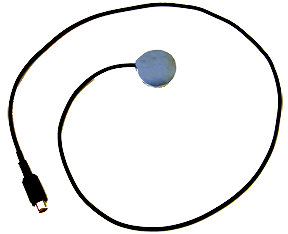 Harpgear.net Pickup.
This plugs into the preamp (see below)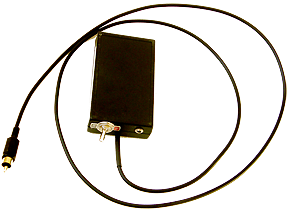 Harpgear.net Preamp
(approx. 110 x 60 x 30 mm,
or 4½ x 2½ x 1¼ inches)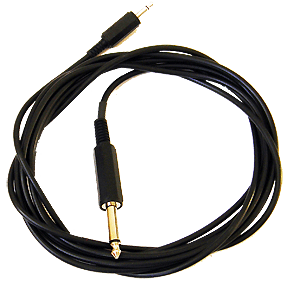 4-metre cable,
This connects the Preamp to your amplifier
» With amplification, much less effort is needed to produce a big sound from your harp
» With less effort, you will be less fatigued, and happy knowing you can be heard in a large venue, over noisy guests

The Harpgear.net Harp amplification set-up.
» It comes in three parts - pickup, preamp, 4 metre cable
» The pickup attaches inside your harp's soundbox. DOWNLOAD fitting instructions
» The preamp is a 'pre-amplifier' - In its aluminium alloy box this electronic device boosts the tiny signal from the pickup
» The 4 metre cable connects the preamp to your power amplifier. Adjust your power amplifier volume and tone controls to suit your requirements

What's so special about the Harpgear.net Harp amplification set-up?
» This Harpgear.net set-up was designed and developed in the UK, specifically for harp. Each pickup and preamp is hand made and tested by harpgear.net. The system has extremely low noise, and a high gain. Whether you choose to use a battery or mains run power amplifier, you will have plenty of amplification
» No LEDs. No volume or tone controls. Doing away with unnecessary circuitry means less chance of generating unwanted noise, less chance of faults developing, and most importantly, the PP3 battery will run for much longer. Tone and volume adjustments are better made on your power amplifier
» The harpgear.net harp amplification set-up is effective, yet not expensive. Individually priced as follows - Pickup = NZ $60.00, Preamp = NZ $240.00, 4 metre cable = NZ $55.00. All three items special offer = NZ $320.00 NZ delivery is NZ $10.00. Please email for payment options. Terms

Are there ongoing costs?
» The preamp is run by a PP3- 9 volt battery, and should run for 100 to 200 hours - depending on the battery type. Duracell Alkaline is recommended
» Battery-run power amplifiers produce enough volume. I recommend those using 8 AA rechargeable batteries. Those designed for Keyboard suit harp the best, and should run for over 6 hours before needing a recharge.

Why not use a mains-run amplifier?
» You can, but to use a mains-run amplifier in a public place in the UK, the amplifier and cables will require annual, documented checks. This check is called a Portable Appliance Test (PAT), and must be paid for
» For utmost flexibility, I recommend you buy a battery-run power amplifier, which does not require a PAT. However, this set-up will work perfectly well with a mains-run power amplifier. Power amplifiers are available online and from reputable High Street Music shops, for $300 to $1000+.

The harpgear.net amplification package is available NOW, priced at NZ $330.00 (includes NZ delivery).
Payment
» Paypal payment can be made after we have provided you with the appropriate email address. Alternatively, customers can make a direct bank transfer. Please email a request for the email address, or the bank details