Harpgear.net Services - home page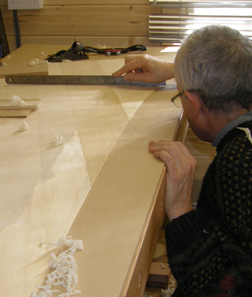 Robert Webster checking the thinly
planed edge of a harpsichord soundboard.
Robert Webster studied in New Zealand, gaining a BA in music, a Diploma in Educational Studies, and a Teachers' College Diploma. He emigrated to his father's home country in 1989.
Harpgear.net provides a variety of services for harpists, such as supplying strings, tuning, and amplification equipment.
In addition to this, Robert's greatest love is to build harpsichords. His first harpsichord was made from scratch 40 years ago. Several harpsichords, a couple of virginals and a clavichord later, he now builds, to order, historically based keyboard instruments from The Paris Workshop.
If you wish to enquire, please email Robert