Anna Christensen - Harpist - home page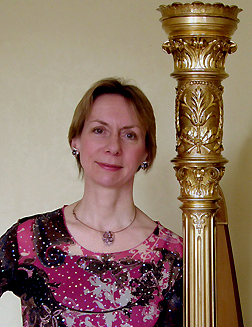 WARNING – the first paragraph contains serious name-dropping. If you wish to avoid this, please skip to**.


Since late 2021 Anna lives and works in Wellington, New Zealand. While working overseas she performed alongside (apologies to any missed out…): Russell Watson, Katherine Jenkins, Sir Mark Elder, Vladimir Ashkenazy, Timothy West & Prunella Scales, John Nettles, Rudolph Nureyev, Jose Carreras, Paul McCartney, Aled Jones, Renee Fleming, Kiri Te Kanawa, Maxim Shostakovich, Vassily Petrenko and Midge Ure, in front of Diana Princess of Wales, HRH Prince Charles, Queen Elizabeth II, and Queen Elizabeth the Queen Mother. She has performed often at the BBC Proms and played for West End shows including The Sound of Music, The King and I, and the nationwide tour of Me and my Girl (with Gary Wilmot).  She toured Wagner's Ring Cycle with Opera North, and has worked with most orchestras and ballet companies in the UK. Highlights include international orchestral tours of Japan, Spain, China, Greece and Germany, most recently performing at the Sala Radio Bucharest with the BBC Philharmonic. 

**After completing her music degree and LRSM in her native New Zealand, Anna went on to the University of Wales, in Cardiff, completing her MA in harp performance.  She then returned to NZ to work as Principal Harpist with the NZSO, and as harpist in residence for New Zealand Government House, before moving back to the UK.
Anna is a very experienced performer for weddings, celebrations and corporate functions, and has a wide range of music styles. She can offer advice and suggestions for music to suit all occasions, whether happy or sombre, and will respond sympathetically to requests.  
Anna is an experienced teacher of harp for all ages from young children to adults, and all levels from beginner to university.  Teaching currently takes place online. In conjunction with her teaching, Anna has composed several books of studies for beginning and intermediate level players. Details are under "Music Downloads". She has also just completed an upbeat arrangement of Pachelbel's Canon entitled "Pachelbel Rocks".
Music to Iron By', with Rachel Holt, flute, was featured on Woman's Hour, and is still available here as a music download. Her interests include keeping chickens, making bread, being a secondary school governor, and attempting to grow things in heavy clay soil.
To check availability, or for any other queries, please email Anna.