Anna Christensen - Harpist - home page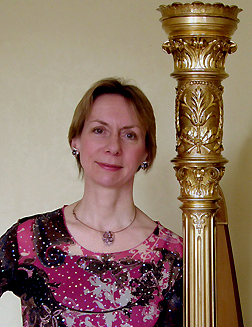 WARNING – the first two paragraphs contain serious name-dropping. If you wish to avoid this, please skip to**.
Anna has played for/with: Russell Watson, Katherine Jenkins, Hayley Westenra, Vladimir Ashkenazy, Timothy West & Prunella Scales, Rudolph Nureyev, Jose Carreras, Carl Davis, Paul McCartney (performing his Liverpool Oratorio with the Royal Liverpool Philharmonic Orchestra in France), Sarah Walker, Renee Fleming, Kiri Te Kanawa and Midge Ure, in front of Diana Princess of Wales, HRH Prince Charles, the Duchess of York, and Queen Elizabeth the Queen Mother. She has performed at the Proms with the Bournemouth Symphony Orchestra, the Halle and the BBC Philharmonic Orchestra. She has played for West End shows including The Sound of Music (with Christopher Cazenove), The King and I (with Susan Hampshire) and the nationwide tour of Me and my Girl (with Gary Wilmot). She enjoys playing for opera, ballets, and chamber music performances, and has worked with most orchestras and ballet companies in the UK, including English National Ballet, Birmingham Royal Ballet, Northern Ballet Theatre, Opera North and Sinfonia Viva.
Anna is one of the most versatile and adaptable harpists in the UK. After gaining a degree in music in her native New Zealand, she was the resident harpist in the Hotel Intercontinental in Bahrain. Completing her MA in music at the University of Wales, she then returned to NZ for several years to work as Principal Harpist with the New Zealand Symphony Orchestra. She was also harpist in residence for New Zealand Government House where she played for receptions and guests including the Emir of Bahrain, the Governor-General of Fiji, and the Duke and Duchess of Gloucester.
**Anna enjoys playing for weddings and corporate functions, and has a wide range of music styles. Requests she has most enjoyed learning for previous clients have included Match of the Day theme (for the marriage of a professional footballer), and the theme from Blackadder as a groom's surprise to his friends. Her favourite musical memories include performing with the Band of the Royal Marines (no shortage of helpful and muscular young men to help move the harp) and playing Pachelbel's Canon in D as a duo with BBC Radio 4 presenter Kathy Clugston on ukulele.
Her CD 'Music to Iron By', with Rachel Holt, flute, was featured on Woman's Hour. She is currently involved in supporting the restoration of the Manchester home of Victorian novelist Elizabeth Gaskell by playing at their Open Days each month, and also appears at Tatton Park, Cheshire for their 'Mansion at Christmas' openings.
Her interests include keeping chickens, being a secondary school governor, and annoying Radio 4 by sending them programme suggestions, some of which they actually use.
To check availability, or for any other queries, please email Anna.