'Appassionata' Harp & Flute duo
Receptions - Wedding Ceremonies - Corporate Functions - Education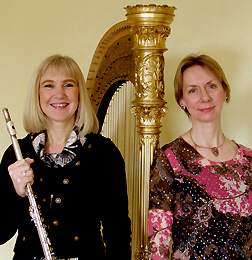 From Debussy to Dire Straits, Elgar to Enya, Mozart to Mancini!  This talented duo present music which is varied, exciting and appropriate to the occasion. They have wide experience of playing in any situation, from the gilded salons of stately homes to marquees in December!
Appassionata is comprised of two professional musicians, whose repertoire spans the centuries. They are happy to provide anything, from a complete recital of classical pieces, to relaxing 'music to dine by' for that corporate function or wedding reception. Any special musical requests will be considered and, where possible, catered for. They pride themselves on reliability and versatility, and enjoy a challenge. Anna's most unusual booking, to date, has been to dress as a nun and play at midnight in a semi-derelict telephone exchange for a theatrical first-night party! The duo has also appeared dressed as angels for a charity function, complete with wings.
For several years, Appassionata has successfully developed and presented music sessions for pre-school children and carers in public libraries. Anna and Rachel also have a programme of workshops and recitals for older children, available to schools.
Rachel Holt studied at the Royal Northern College of Music (RNCM), and was a prizewinner in the Young Artists' competition of the International Flute Association, held in the USA. She is Principal Flute with Sinfonia Viva, for many years performed with the Performing Arts Symphony Orchestra, and is a member of the chamber ensemble Zephyr Winds. As a freelance performer, she plays with many of Britain's leading orchestras, including the Hallé and Philharmonia. She teaches at the Junior School at the RNCM, Chetham's School of Music and Lancaster University.
To check availability, or for any other queries, please email Appassionata (via Harpgear.net).